---
ASAAL Ninth Chapter In Pennsylvania Opened
---
UsaNewsOnline.Com, Pennsylvania : The Alliance of South Asian American Labor (ASAAL) once again makes history by opening its Ninth Chapter in the great State of Pennsylvania. The Chapter has started in Philadelphia, known as the City of Brotherly Love!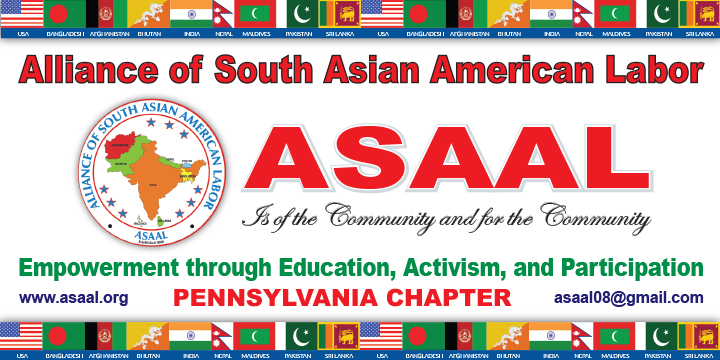 The event took place at the Tarka Restaurant, located in the center of University City, Philadelphia on Sunday, September 10, 2017 starting at 7:00 P.M.
The event was joined by the Keynote Speaker Maf Misbah Uddin, ASAAL Founder and National President, Karim Chowdhury, National Secretary; Jed Matalon, National Corresponding Secretary, Queens Chapter Executive Vice President of ASAAL Nurul Haque, ASAAL New Jersey President Farook Hossain, Member of the Board of Trust Abdur Rafiq, and Vice President Mohammed Kader. We are very happy that Unite Here Local 274 Secretary-Treasurer Michael Mullins joined as a Special Guest Speaker with his assistant Lead Organizer Vandelyn Waring.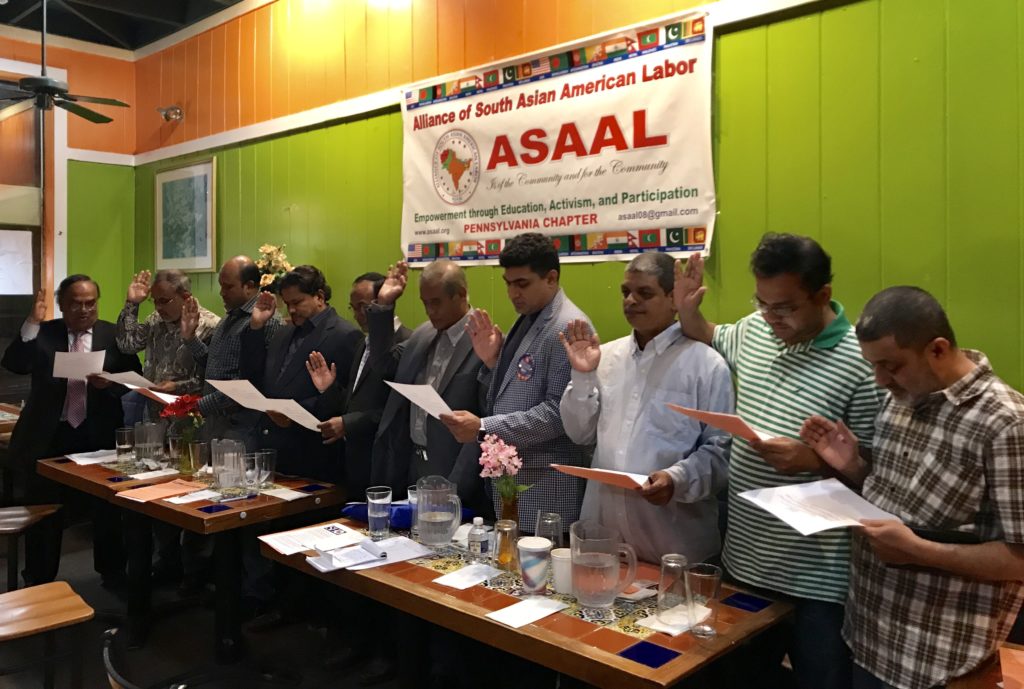 The President of the Pennsylvania chapter is Kazi Matiur Rahman, a long time and very distinguished citizen of Pennsylvania with the Executive Vice President Shah Farid, Secretary Shoaib Chaudhary, Corresponding Secretary Moin Uddin, Treasurer Md. Abbas Ahmed, Executive Director Kamal Uddin, Women's Committee Chair Nilufer Kamruzzahan, Immigration Director Shahid Hasan, and Political Director the Hon. Ala Uddin, followed by the following Vice Presidents: Syed Siraj, Nazim Uddin Jewel, Sharib Khan, Zahid Hasan, Nur Uddin Nahid, Md. Selim, Md. Sisco Mamun, Md. Jashim Uddin, Sarwar Alam, and Abdur Rahim.
President Rahman said he is thrilled and honored to have this position and the responsibility that it brings. "I look forward to beginning this exciting journey of bringing the message of ASAAL to my fellow neighbors. As I realized ASAAL is the only way to empower our community here in Pennsylvania."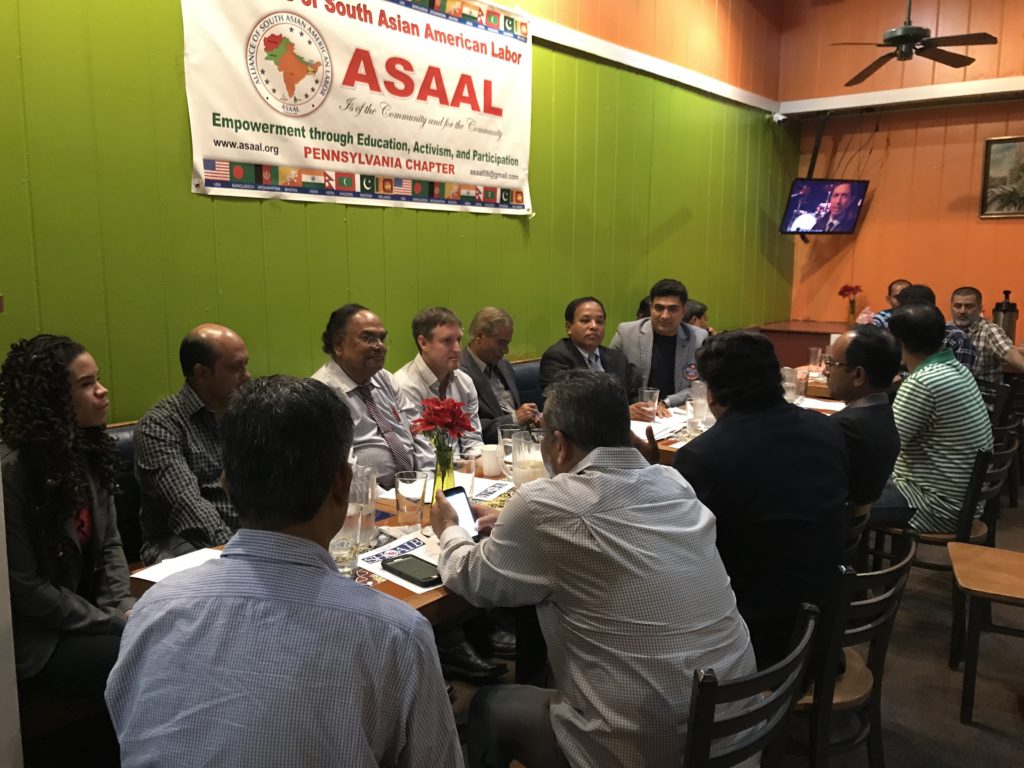 Maf Misbah Uddin in his speech said, "this is just another important step in making ASAAL a nationwide movement and our community a strong political, educational, and motivating force everywhere in America. I wish President Rahman and the rest of the officers the greatest degree of success in the future." "All I know, we were not born to be self-centered but to be the center for all around us", he added.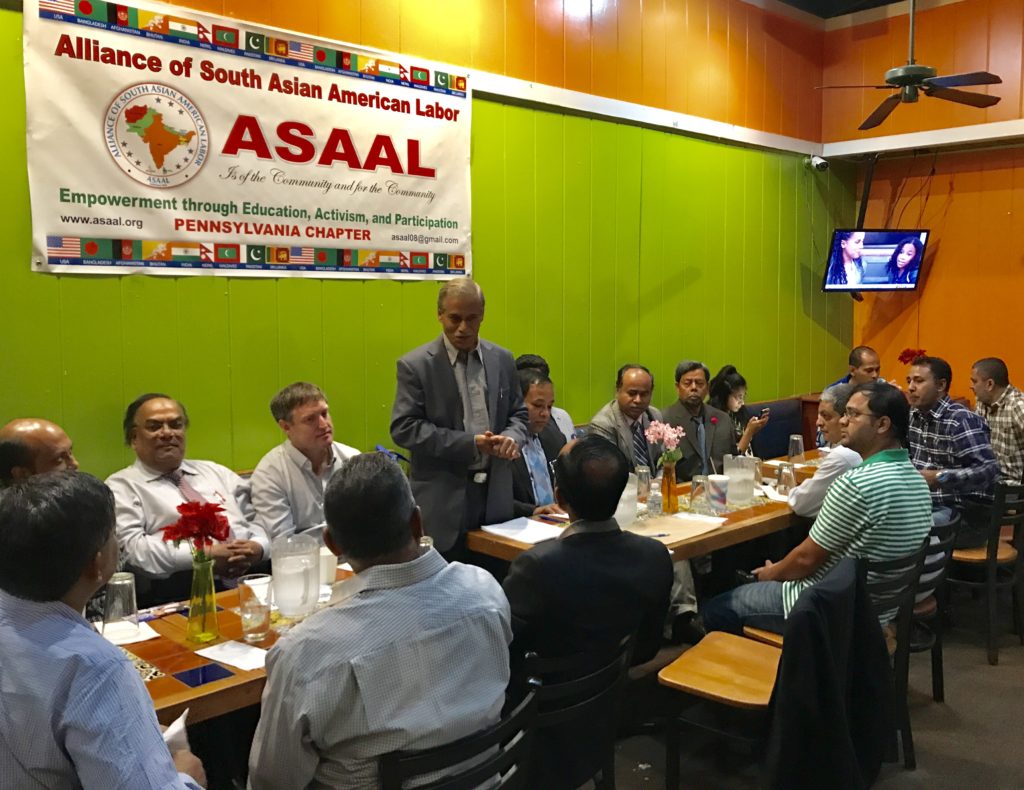 President Uddin then administered the Oath of Office and followed with a brief speech about their mission to make ASAAL a tremendously influential organization in this great state. Special guest Michael Mullins said, "I was a university professor but left that to be an organizer of a union and am very pleased to be present with ASAAL as it is one of the best community based organizations. I know, that it is expanding rapidly with a vision that all South Asians must love to join and I'm joining ASAAL today to help in any way I can!"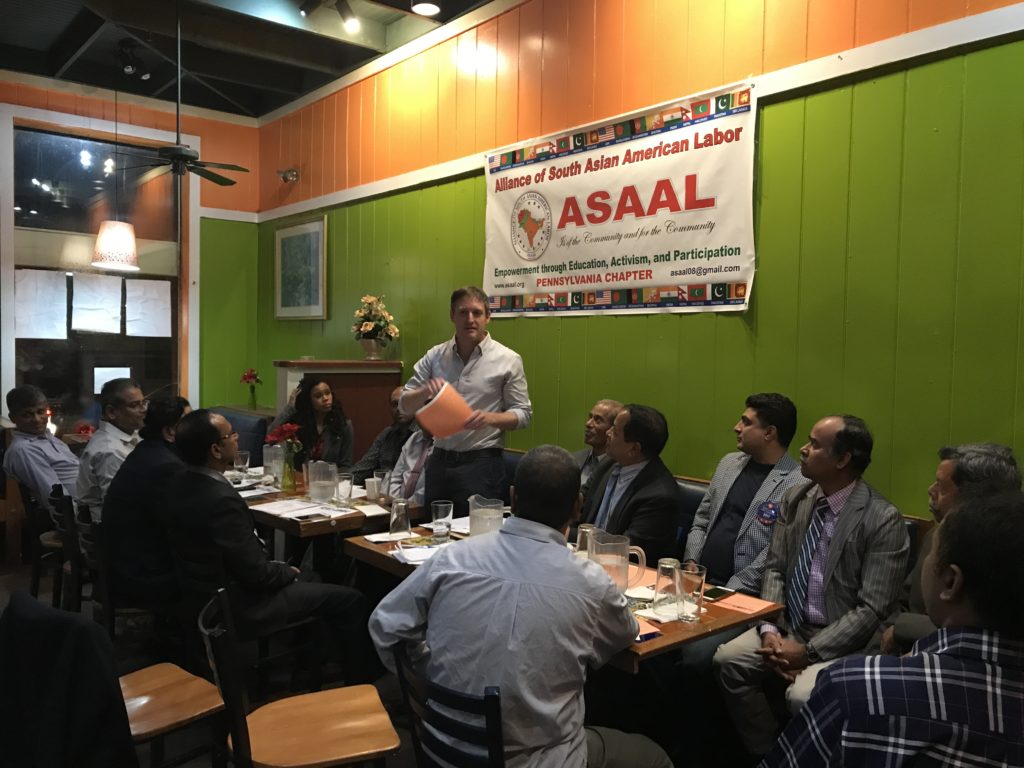 The Philadelphia Chapter made its first political endorsement in its history by announcing its support of Shoaib Chaudhary to be elected as the Lehigh County Commissioner for the Second District, Pennsylvania. Mr. Chaudhary enthusiastically accepted the endorsement and promised to help ASAAL as its Secretary in any way he can in the future.
Everyone then enjoyed a festive Halal meal. The meeting was adjourned at 10:00 P.M.
---